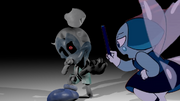 So i just realized this, isn't this guy one of Photo Negative Mickey's characters? They are so many Micks that he choose this guy instead of the normal one...
Yes kids, an Aquamarine and Photo Negative Mickey crossover was possible due to the fact he found the withered one instead, and they do say "Dreams do come true." But that was back in BATIM.
Admins if your seeing this please note that Withered Photo Negative Mickey is not mine, this is just an image from Google Plus, I'm sorry...
(I should be a writer with this much typing on the forums)