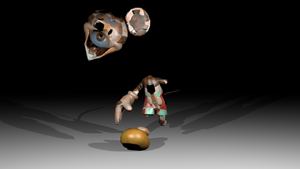 Whoa, hold up buddy.
'''This Page belongs to User:Un Invert Mickey'
This page belongs to the User:Un Invert Mickey, you can not edit this page until you get the Permission of the creator/owner of this particular page. Edits with no permission will be re-done and a warning will be given. Thank you for reading!
Not to be confused with The Signless/Sufferer.
The Signless
is a fan-made easteregg in Abandoned: Discovery Island. He is an adaptation of the character by the same name in Homestuck.
Appearance
The Signless has a fairly human appearance. He wears a dark tan cloak, and two nubby orange horns on his head. He also has bright red glowing eyes.
Behavior
The Signless will appear if the player types "69" during any night. The next time the player opens the monitor or views a camera, the zodiac symbol of Cancer will appear, obscuring the player's vision. If they lower it after seeing this, Signless will appear in the office. If the player does not hide after seeing him, the game will close for a few seconds. Once it reopens, the game continues the night, but the location is tinted bright red, and the time/night HUD would be replaced with the Cancer symbol, forcing you to guess the time. Once the night is completed, it continues on normally.
Trivia
If the number "69" is viewed sideways, it shows to be the zodiac symbol for Cancer; Signless' symbol.
Community content is available under
CC-BY-SA
unless otherwise noted.