We're Getting Mutants in the MCU - The Loop
Play Sound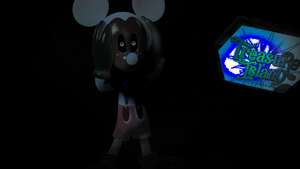 Hold it! Don't think you're going anywhere without reading this!
This Page belongs to GreenMario543213
This page belongs to GreenMario543213. You cannot edit this page without his permission. Any edits made without permission will be undone. If you want to use these images or this character for OC reasons, you must also ask for permission. Thank you for reading!
Appearance
As his name suggests, Animatronic Mickey is a robotic version of MickMick. However, he is in a very poor condition. The covering for his muzzle is missing, exposing the endoskeleton inside. His right eye seems to have a scar on it. His left eye is replaced with a red pupil. The endoskeleton for his left ear is partially exposed.
Most of the endoskeleton of Animatronic Mickey's torso is exposed, with only a small portion of the lower half being covered. His left arm is missing, with a few wires replacing it. His right arm's covering is completely missing, but the hand remains completely intact.
Animatronic Mickey is missing the left button on his pants. The covering on his left leg is completely missing. Half of his right foot's suit is missing as well.
Behavior
Animatronic Mickey doesn't appear until the power is out. He will randomly appear in the office during that given period of time. To stop him, the player must flash the light three times on him.
Trivia
Animatronic Mickey is inspired of Ignited Bonnie from The Joy of Creation: Reborn.