We're Getting Mutants in the MCU - The Loop
Play Sound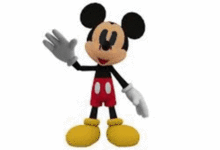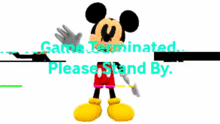 Description
Blackout Mouse was a Mickey Mouse robot that had the light features in its eyes break. It was sent to the Suit Workshop to be repaired but since Treasure Island shut down before it could be repaired, it was never fixed.
Appearance
He looks like normal Mickey Mouse except his eyes are completely dark black and small dark purple tears can be seen on his face. It also glows in the dark.
Locations
Blackout Mouse will start in the Suit Workshop. Its body is laying on the ground and its head is seperated and on the ground near it. Blackout Mouse will then sit up with its head on its shoulders. It will then stand up. The player must be careful of this because it will then teleport to The Office. It will cause the lights to flash and a lot of metal clanging noises. The player must quickly make a sound elsewhere or else Blackout Mouse will kill the player.
Behavior
Blackout Mouse will move every couple of seconds, sometimes a minute or so. He first sits up at 2AM. He starts on Night 2. When moving he can say the following things...
*nonunderstandable noises*
*static*
Help Me...
...Please...
...What did i ever do?
...What did i do wrong?
Why?
*light crying*
It isn't fair...
Trivia
His jumpscare noise is the same as Photo Negative Minnie.
If his nonunderstandable noise is slowed down, the following can be heard... "ITISN'TFAIRYOULITTLEINEVERDIDANYTHINGWRONGIJUSTHADMYLIGHTSPUNCHEDOUT!". Space it out and it says "IT-ISN'T-FAIR-YOU-LITTLE-I-NEVER-DID-ANYTHING-WRONG-I-JUST-HAD-MY-LIGHTS-PUNCHED-OUT!".
If the game crashes, the player usually gets a screen with Ultra Powrr Mouse, but they may get one from Blackout Mouse.