Jurassic World: Dominion Dominates Fandom Wikis - The Loop
Play Sound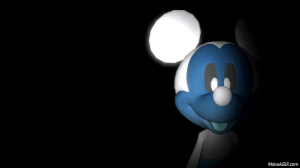 Found You!
'''This Page belongs to MinionPapoy'
As request of the creator, MinionPapoy, to use this character/OC in your FNaTI or A:DI fan-games, you'll need to ask for permission to the creator/owner of this character, and put the correspondent credit of the creator, use without permission will make the creator hold the Roll Roller Da! Then crush you down, then roll at you. You can fix any mistake grammar.
Thank you for reading!
"Jokes Ahead"
This following page is a joke page, and is not meant to be taken seriously, in any way, shape or form. This page's content may also wildly vary and NOT pertain to the subject of A:DI or FNaTI. Thank you for reading this warning.
Description
Cheap Toy Mickey is an fan-made easter egg in Abandoned: Discovery Island.
Appearance
New
Cheap Mickey is Mickey Mouse, but he has skinny arms and legs, more smoother, and weird look.
Old
Cheap Toy Mickey looks like Normal Mickey, but in the toy version and cheap.
Behavior
He rarely appear in the Office. If you pull up the monitor, he will be gone.
Location
Office.
How to activate
During any night, you need to press "T" key, then you will hear a squeaky sound effect, which means he is active.
Trivia
He was referring to Figurine Mickey from Treasure Island Radiance.
He is not hostile
If you click his nose, he will make squeaky sound effect.

Similar to Figurine Mickey from Treasure Island Radiance.

In Night 6 or Joke Night 6, he will appear to be Figurine Mickey.