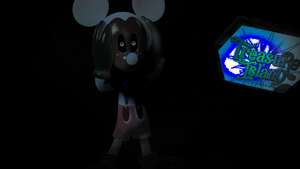 Hold it! Don't think you're going anywhere without reading this!
This Page belongs to GreenMario543213
This page belongs to GreenMario543213. You cannot edit this page without his permission. Any edits made without permission will be undone. If you want to use these images or this character for OC reasons, you must also ask for permission. Thank you for reading!
Colored Willy is a fan-made antagonist in Five Nights at Treasure Island.
Appearance
As his name implies, Colored Willy has the exact same appearance as Willy, but now has red pants and yellow shoes. He is just, as his certain design appears to be, similar to Mickey Mouse.
Original Period
To emulate the way characters were drawn in the Five Nights at Treasure Island's time period, his coloring is inconsistent; he is sometimes depicted, having a light shade of brown face skin, also wearing red or yellow boots, and/or yellow gloves instead, and/or orange or yellow buckles on his pants. As an anthropomorphic mouse toon, his skin is a light gray and made of porcelain, so enough noises can lure him to another room, leaving behind his apparition.
Overall, his appearance is identical to TugBoat Willy in the 1930's of Treasure Island.
Behaviour
Colored Willy will begin in the Lounge, off-screen. Then, he'll appear in the room, doing the same pose as Willy.
He also becomes active on Night 6 as a harder replacement of Willy. He has the exact same behavior as Willy, but is much faster, meaning that the player must be very quick later. He can appear in your Office as early as 12:00AM. The player must hide under the desk to avoid him, as shutting off a camera, or cutting the power will also work.
Locations
Colored Willy will start in the Lounge. He will then head toward your Office.
​Trivia
Gallery
Prior Re-Ownership
Community content is available under
CC-BY-SA
unless otherwise noted.