Jurassic World: Dominion Dominates Fandom Wikis - The Loop
Play Sound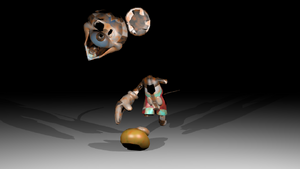 Whoa, hold up buddy.
'''This Page belongs to User:Un Invert Mickey'
This page belongs to the User:Un Invert Mickey, you can not edit this page until you get the Permission of the creator/owner of this particular page. Edits with no permission will be re-done and a warning will be given. Thank you for reading!
Darkened Photo-Negative Mickey (formerly Modern Photo-Negative Mickey) is a fan-made easter egg and a joke antagonist in Abandoned: Discovery Island.
Description
Darkened P-N Mickey was originally created by Web125546, under the name "Modern Photo-Negative Mickey". Un Invert Mickey created a more improved version of the toon in Blender.
Appearance
Darkened PNMickey's appearance is that of Photo-Negative Mickey, except that he has a darker color scheme. The original art, made by Web125546 for the character's appearance consisted of this character with large ears and facial expressions.
Behavior
Darkened P-N Mickey has a similar behavior to that of RWQFSFASXC from FNaF 2.
He will appear in the office rarely on any night, standing in front of the Treasure Island sign in a similar vein to Oswald. To get rid of him, turn off the power or open the monitor. Hiding under the desk has 50/50 chance of working. If the player fails to do anything within 5 seconds, he will kill the player and crash the game.
Trivia
The textures in the current promo of Darkened Photo-Negative Mickey are those of True Mickey's. Despite that, the two are not connected.
Darkened PNM lives in a refrigerator.
Gallery
Prior Re-Ownership