Freakshow Oswald
is a fan-made antagonist in
Abandoned: Discovery Island
.
Appearance
Freakshow Oswald looks like a regular Oswald suit, with torn limbs, ears, feet, and torso. Freakshow Oswald's eyes are gaping, and have bright blue eyes, and maroon colored flesh surrounding them. Through the damage on Freakshow Oswald, you can see a pink fleshy texture. Freakshow Oswald's mouth is lined with rotten inhuman teeth surrounded by slimy gums.
Behavior
Freakshow Oswald becomes active at 2AM of Night 3, and move at a slow pace around Discovery Island.
Freakshow Oswald does not speak, it only communicates through giggles and laughs.
When Freakshow Oswald enters the Office, the player must hide under the desk. Neglecting to do so will result in a jumpscare.
Locations
Freakshow Oswald will start in the Caverns Entrance, then he will move to the Broadcasting Room, the Staff Area, the Meat Freezer, the Lounge, and than the Office.
Audio
| Transcript | Audio | Plays When... |
| --- | --- | --- |
| *laugh* | | Moving |
| *laugh* | | Moving |
| *laugh* | | Moving |
| *laugh* | | Moving |
| *Jumpscare* | | Catching the player. |
Trivia
His audio is higher-pitched verions of Nightmare Fredbear's laugh, from Five Nights at Freddy's 4.
The "thing" inside of Freakshow Oswald is not human.
Gallery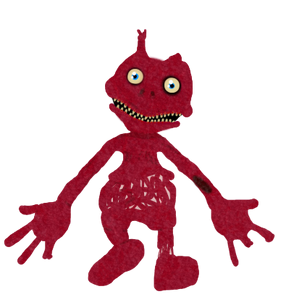 Community content is available under
CC-BY-SA
unless otherwise noted.