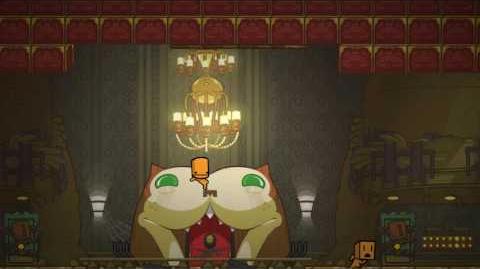 Appearance
Frog Bomb is a frog with a cane, bowtie, and a walking cane in a 2D fashion.
Behavior
Frog Bomb goes around different smalls parts of CAM 5, 6 and 7, usually hidden in areas of cams that nobody looks in, with himself peeking out, or something of his peeking out from behind something. If you find him and click on him, he will come out from his hiding place and look at the player, smile, and then give and tell the player that the night will be 10% easier. If you use Frog Bomb too much for help too fast, he tell you your selfish, then he will explode then immediatly crash the game.
Quotes
I will not do work for someone selfish.
Oh hey, you found me. Might as well speed up the night.
Are you sure the night isn't already easy enough?
OOOHHHHHHH BABY A TRIPLE!
Buckle yo pazz!
Trivia
Frog Bomb can be used in Battleblock Theater, as he explodes when getting close to someone or something.
Frog Bomb looks exacly like its creator, Internet Frog.
Frog Bomb will say "OOOHHHHHHH, BABY A TRIPLE!" after using him 3 times