HIM Is A Unofficial Antagonist On ADI 2.0
Appearance
HIM Looks Like Suicide Mouse Except His Eye Are Bleeding Red Blood, He Also Holding A Bloody Knife On His Left Arm, His Cloth Appear To Be Bloody, His Shoe Also Appear To Be Bloody, He Has Really Happy Mouse Red Eye And He Has Bloody Greyscale Human Teeth.
Behaviour
He Will Active On Night 7, He Will Start On Broadcasting Room, The TV Show A Bloody Mickey Mouse Face.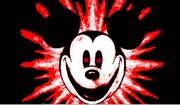 Then He Will Move To Character Prep 1, If Theres No PN Mickey, He Will Change The Poster To Bloody Mickey Too, Then He Will Move To Staff Area, Meat Freezer, Lounge And Office Or Sometimes Goes To Stairway, Depths, Break Room And Entrance Room, When He Appear On Your Office, You Must Hide Until You Hearing His Footstep, Failling Or Negelecting, He Will Crash Your Game.
Locations
Broadcasting Room
Character Prep 1
Staff Area
Meat Freezer
Lounge
Depths
Break Room
Entrance Room
Stairway
Office
Trivia
The Image Can Be Found Here:
https://suicide-mouse.fandom.com/wiki/Happy_mouse?mobile-app=false
Currently Unknown How He Get The Knife.
He Could Possibly A Spirit That Just Want A Revenge.
Somehow He Doesn't Turn TV To Bloody Mickey In The Office.
Community content is available under
CC-BY-SA
unless otherwise noted.