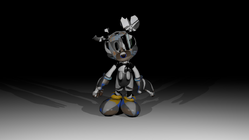 Whoa doggy! Read this before proceeding!
'''This Page belongs to User:BonbonRETIRED'
This page belongs to the User:BonbonRETIRED, which you cannot edit this page without his permission, get permission from him if you want to edit this page, or he will be worried. If you want to use these images for OC reasons, ask permission. Thank you for reading!
night is an fan abandoned antagonist in Abandoned: Discovery Island 2.6
Appearance
His appearance pn mickey all green body with a vest similar to that of demon mouse (red ghost), and his green but his whole body, his vest and his green hat green bow tie green collar are dirty this is due to the time he has been abandoned in discovery island.
Behavior
appears on his own night called (night GT) He will start in characters prep 1 and start playing a reverse  and he will move and take the next two locations to go to your office and kill you, the staff area and the meat freezer. When you have entered your office you have to turn off a camera that appears if you do not kill it ending with a game over, apart you should not see it for 5 seconds because he can make the bob and mickey mouse head appear.
Locations
Characters prep 1 ➝ Staff area ➝ Meat freezer ➝ The office.
Trivia
His appearance is slightly based of the demon night doesn't speak at all. included in Custom Night and Infinite Night The reason why shutting off power won't work, since he can insta-kill you by making a noise. In the newer versions, he was removed due to  he was removed night GT
Community content is available under
CC-BY-SA
unless otherwise noted.