Jurassic World: Dominion Dominates Fandom Wikis - The Loop
Play Sound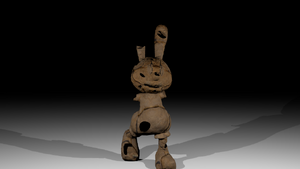 Stop right there, buddy! You aren't going anywhere without reading this!
This Page is a collab between User:Budgie2712 and User:Tomato MickMick
This page is a collaboration between User:Budgie2712 and User:Tomato MickMick, so, both users are allowed to edit this page and use this character. If you want to edit this page, make sure to ask permission, or it will be undone. To use these images/OC you need to ask permission too. Thank you for reading!
Mesozoic Oswald, or Mesozoic Bunny is a Fan-Made antagonist in Abandoned: Discovery Island.
Appareance
Mesozoic Oswald is a version of Dark Oswald, except that his textures are replaced with old stone textures, also, he has got multiple holes all over his body, and a rough texture, similar to a rock.
Behavior
Mesozoic Oswald starts in Storage Room like most of Oswald's counterparts. He will be seen coming out from a crate. Later, he will head to The Roof, where the player can choose to watch him to slow him down, like The Face.
If Mesozoic Oswald enters to the office, if he's seen in the background of the office, next to the Treasure Island/Discovery Island sign, the player must shut off a camera to avoid Mesozoic Oswald's attack. But if he's seen in the left door, the player must hide under the desk to avoid him.
When moving, he can speak one of these quotes:
"Why do I still exist?"
"I was suppossed to be dead."
"Something says me that you aren't a good person, Jake."
"If you would give me my arms back..."
"Hey!"
Shutting off the power will anyways work in him.
Locations
Mesozoic Oswald will start in Storage Room, then, he will head to: Staff Area, Meat Freezer, The Roof and The Office.
Trivia
He was originally created by User:Tomato MickMick, but later User:Budgie2712 created his model and created the page.
He is based in Ancient Mickey.
He is the oldest suit of the entire game.
Probably Jake took Mesozoic Oswald's arms. (See quotes)
Is unknown how does he know the guard's name.