Description
Mick.wrm is a fan-made antagonist in Abandoned: Discovery Island.
Appearance (NEW)
Mick.wrm's appearance is completely unintelligible, as its whole body is glitched and distorted, only a Mickey-like shape can be seen. Mick.wrm's new appearance is made up of multiple colors, with pixel drag and interlace lines.
Appearance (OLD)
Mick.wrm is a regular Mickey Mouse "Toon", but has darker colors, glitched parts, a ripped eye which has a human eye inside and blood splatters.
Behavior
His mechanic is that he acts as a computer virus on your cameras. He will appear in any room on the island and if you don't click away fast enough, he will corrupt your monitor and you will have to wait a limited time before they are usable again.
Locations
Mick.wrm can start at any room on the island building.
Trivia
He doesn't have a voice.
He can't appear in your Office.
He is one of the 7 Corruptus'.
An angry employee that worked at Disney created a Mickey Mouse computer virus to get back at his co-workers.
His old audio is from PTLD-93 from FNaTL
EDIT 7/10/21: A new image was made for this character, and the old one was placed in a gallery. Another new addition is an originally made corruption sound.
Audio
Gallery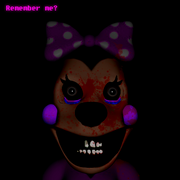 Unsettling
The Despair is just begin.-Zardy99's Amalgamation
---
This character is unsettling to some people

Reason: His old look is disturbing to some people
Please, continue at your own risk