Windows was created by RedCowStudios.
Gallery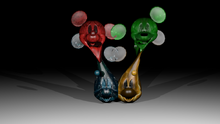 Description
Nightmare Windows is a fan-made antagonist in Abandoned Discovery Island
Appearance
He appears to be the original Windows made by RedCowStudios with distorted features. Each head has human eyes and sharp teeth, although the green and yellow head have wooden stakes through their eyes.
Behavior
Broadcasting Room 2 -> Character Prep 2 -> Staff Area -> Meat Freezer -> Lounge -> Office. The player must shut off a camera to get rid of him.
Locations
Broadcasting Room 2
Character Prep 2
Staff Area
Meat Freezer
Lounge
Office
Trivia
Windows was made by RedCowStudios.
Like the original Windows, the Windows XP sound startup sound will play but it's distorted.
Shutting off the power will also work on him.
Windows is one of my favorite fan-made characters.