Story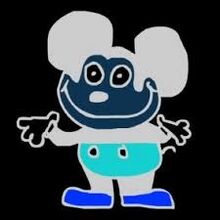 Mokey is a made up cartoon character made by Sr Pelo [1]. He is a distorted Mickey character that is poorly drawn and screams A LOT. Photo Negative Mokey is the equivalent of Photo Negative Mickey but he is well, Mokey. He is from the WIP game Fav Nieghts Ut Threshurs Ishland. I actually don't know what to put here so message me on Discord PNMokey#9364 for filler.
Community content is available under
CC-BY-SA
unless otherwise noted.