Plush Mouse is a plush character that appears in the Depths.
Appearance:
Plush Mouse is one of these Mouse Suits that appear in the game, but he is a plushie instead of a suit.
Behaviour:
Plush Mouse can wander everywhere across the island, and is an disadvantage just like Disembodied, Daisy, Pluto and Purity. When in the office, he will make high pitched glitch noises. To get him out, shut off a camera, hide or wear the Mickey Mask
Trivia:
All Plushies including this one do not have shades.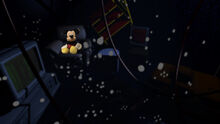 Community content is available under
CC-BY-SA
unless otherwise noted.