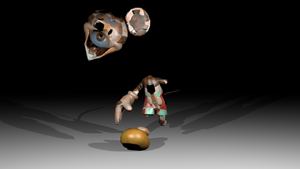 Whoa, hold up buddy.
'''This Page belongs to User:Un Invert Mickey'
This page belongs to the User:Un Invert Mickey, you can not edit this page until you get the Permission of the creator/owner of this particular page. Edits with no permission will be re-done and a warning will be given. Thank you for reading!
Sheepbird
is a fan-made (partially canon) easter egg in Abandoned: Discovery Island.
Appearance
It's a bird with the fleece of a sheep. It appears to be like a toy of sorts.
Behavior
Sheepbird sits in the Storage room on the shelf next to Oswald. Every 1/413 chance, it will show up in the office. To avoid dying, the player must refrain from moving until it fades away; failing to stay still will result in death.
Community content is available under
CC-BY-SA
unless otherwise noted.