"Outdated"
This following page has been marked as outdated by the creator, as in the creator no longer considers this page relevant to their image, and is requesting someone to improve or fix up the page.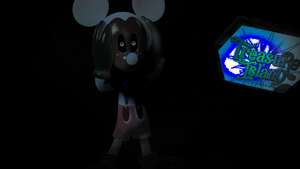 Hold it! Don't think you're going anywhere without reading this!
This Page belongs to GreenMario543213
This page belongs to GreenMario543213. You cannot edit this page without his permission. Any edits made without permission will be undone. If you want to use these images or this character for OC reasons, you must also ask for permission. Thank you for reading!
Description
Sinisteteroid is one of the fan made antagonists in Abandoned Discovery Island 2.6.
Behavior
He starts in the Storage Room, and then exits, and heads to the Staff Area, and then the Meat Freezer, goes to the lounge, and then goes to the office. He cannot kill the player, but instead, will break the camera. Rendering the player hopeless.
Trivia
He is the only character His no happy His 2nd name erro mickey mouse