We're Getting Mutants in the MCU - The Loop
Play Sound
"Outdated"
This following page has been marked as outdated by the creator, as in the creator no longer considers this page relevant to their image, and is requesting someone to improve or fix up the page.
"Jokes Ahead"
This following page is a joke page, and is not meant to be taken seriously, in any way, shape or form. This page's content may also wildly vary and NOT pertain to the subject of A:DI or FNaTI. Thank you for reading this warning.
This is a character before The Legendary Mr. Krabs became a thing and please ask for permission before editing this page or using this character. (The warning is only for the regular users) (Also thank you Distorted Mouse for reminding me to put more info into this page, i really almost forgot about this page)
This character is a joke character but was replaced by The Legendary Mr. Krabs
He would've made an appearence but got scrapped due to confusion
He is on my deviantart account
He would be the character who appeared at the office and when you put up the camera he would disappear.
He resembles a Disney CP called Suicide Mouse.
When he appeared in your office he will say these quotes:
"I DUNNO WHY AM HERE, BUT IT AIN'T DRUGS"
"HELLO NEIGHBOR, MAY I EAT U"
"HIS NAME IS BENDY THE DANCING DEMON"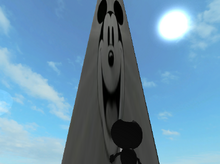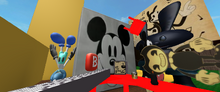 Fun facts about him
He is just some decoration for a fanmade location i made on deviantart. (But he was small as a poster)
This character was made outta boredom.
I was messing around with the scale model on ROBLOX Studio when this happened..
I disgrace this character... (Still i hate this character)
His actual name is Stretchy
Where is THESCALEDTHINGIMADEBECAUSEIWASBOREDSOIDUNNO Mouse?