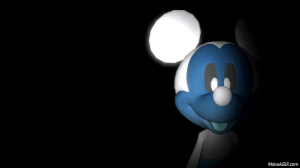 Found You!
'''This Page belongs to MinionPapoy'
As request of the creator, MinionPapoy, to use this character/OC in your FNaTI or A:DI fan-games, you'll need to ask for permission to the creator/owner of this character, and put the correspondent credit of the creator, use without permission will make the creator hold the Roll Roller Da! Then crush you down, then roll at you. You can fix any mistake grammar.
Thank you for reading!

Terror Cactus Kid is a fan-made antagonist in Five Nights at Treasure Island.
Appearance
Terror Cactus Kid looks like Old Cactus Kid, but he lack his right ear. He cracked his right eye and he have human eye inside his cracked right eye. He had no legs and was replaced by six spider legs. He also inverted.
Behavior
Terror Cactus Kid start at Night 5. He start in the Office inside the Poster. If he standing in the Office, Hide under the desk quickly or else he will kill the player and the result is game over.
Quotes
"Never Take Our Suffering''
"Because Disney Destroyed Everything"
"Die''
Trivia
He also inverted, similar to PN Cactus Kid.
He is Old Cactus Kid.
He also shared Photo-Negative Mickey screech, but low pitch.
He can be called "TCK".
Terror Cactus Kid is the first MinionPapoy's vandalized page.