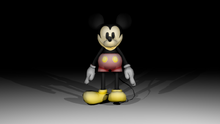 TugBoat Willy Is Like Willy But With The TugBoat Texture.
TugBoat Willy Made in Blender.

TugBoat Willy Is My First RP Model For This Wiki
TugBoat Willy starts in night 4. He will replace Willy if the player holds the SHIFT button.
TugBoat Willy. He starts in Character Prep 1. Then he goes to the Staff Area, Meat Freezer and then the Office.
TugBoat Willy's Jumpscare is the same as Willy's but he has the tugboat texture because it says Tugboat in Tugboat Willy's Name.
By DatGoffGamer aka TheFaceGamer7
Community content is available under
CC-BY-SA
unless otherwise noted.