Information
Description
Unreal Mickey is an unreal version of Mickey Mouse and he is one of the unofficial antagonists in Abandoned : Discovery Island 2.0. , he is one of the few enemies that can crash the game when the enemy kills or attacks the player , the other suit being Unfinished Mouse.
Appearance
Unreal Mickey almost bears and looks like a strong resemblance to the "Mickey Mouse" as first depicted in his early cartoons, but as all of his colors are in pale and shiny blue and his features match the original cartoon Mickey Mouse, and looks rather a bit less shiny. His torso , his gloves , his eyes and his eye pupils/irises , his shoes , and his shorts with his buttons are pale and shiny blue , including his fur and his ears.
Behavior
Unreal Mickey will activate in The Custom Night Or On Night 9 , he will first start inside the Depths , then he will just move along multiple room , he will appear on all of the rooms/cameras in the monitor before appearing inside the Office. If he's inside the Office , the player must shut off One Of These CAMs : CAM 1, CAM 2, CAM 3, CAM 6, or CAM 7 or any cameras in the monitor to avoid him. Not doing so in a matter of 5 seconds will result in a kill-screen jump-scare. When he kills you with his kill-screen, he will crash the game.
Trivia
Unreal Mickey's model is actually Mickey Mouse from Abandoned: Discovery Island, but his textures are all colored pale and shiny blue in his appearance.

He also used to have the same screech, but slower.
He also used to have the same jump-scare, but recolored, before being replaced with the single-frame.

A frame from the old jump-scare is still used when he is in the Lounge.

Unreal Mickey's mechanics and jumpscare is similar to that of Golden Freddy from Five Nights at Freddy's.
Blood Mouse's jumpscare is actually reused from his teaser.
Unreal Mickey seems to have pale and shiny blue blood.
Unreal Mickey was originally going to be The Unreal Cartoon, but was later replaced by him. He was later brought back as a new character.
Unreal Mickey was submitted to the thread by Fate to be in Abandoned : Discovery Island 2.0. It is unknown if he will actually make it into the game.

Unreal Mickey was originally voiced by Cuphead247.
Unreal Mickey may be connected to Ghost Bunnie.
Gallery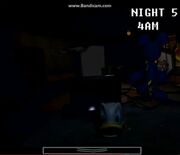 Community content is available under
CC-BY-SA
unless otherwise noted.